Laura Evans – Speaker & CPD Trainer
Laura Evans has been a speaker in front of audiences for a long time now. As one organiser put it 'Laura is at her best on her feet' …. another said 'I love her energy, her passion and her ability to inspire others'. Delegates are often heard saying – 'I can't wait to see her again!'
Are you looking for a passionate speaker for your event, team, business audience or group? Someone that can share value and inspiration? A speaker that engages her audience to want and be more? Perhaps you're looking for a Continuing Professional Development (CPD) speaker able to offer practical tips, skills and methods delegates can use immediately? If you want a speaker able to deliver a session aimed at delivering behavioural change, Laura has the toolkit to do this.
"Many thanks Laura for such an inspiring and informative evening. Your enthusiasm and knowledge and generosity is much appreciated".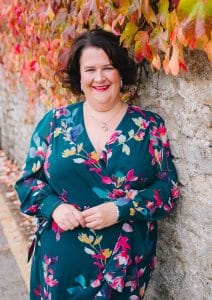 What's Laura's background?
Professionally, Laura has a wealth of corporate life experience, having spent 15 years in HR & Training roles across various sectors before she started her own business focused around mindset and behavioural change.
Laura really does understand the pressures and challenges that Professionals and Leaders face in their roles and as they progress their careers – she's relatable, down to earth and focuses on practical application. She's often asked to share practical tools to help others with 'soft skills' like confidence and resilience. Laura is also often asked to share her management development expertise (often in smaller training events) – such as practical hacks to improve presentation skills. (Laura also offers corporate training – please ask for details).
Since 2014 Laura has run her own successful training business in South Wales offering public self improvement, mindset and behavioural change courses using Neuro-Lingusitc Programming and other people development methodologies. In 2020 Laura launched a separate Coaching and Mentoring business, which also enables Laura to offer support to other business owners to start, scale and grow their business (with a focus on supporting people in the people helping industries, such as Coaches).
Whether Laura is talking at your staff conference, running a CPD event, or an inspirational talk, Laura is very much an open book. She freely shares her own personal journey with Mental Health to inspire others and encourage open dialogue (having suffered with Anxiety and Depression herself). Laura is an expert story teller – using stories and her experiences to bring all her speaking to life for her audiences.
Laura's aim is to not only to inspire but to have fun and empower others – her desired outcome is always to ensure when she walks off stage she knows that her audience has had value, got new ideas/food for thought and can take another step towards unleashing their true potential …
Recent Awards:
Customer Service Excellence 2021 Award – Business Growth Awards
Welsh Business Woman of the Year 2020/2021 – National Business Woman Awards
Leading NLP Training Provider 2020 – Business Elite Awards 2020
Leading NLP Training Provider 2021 – SME News Business Elite Awards 2021
Pivot Entrepreneur of The Year – South Wales – Great British Entrepreneur Awards 2020
A section of previous speaking engagements …
During recent speaking engagements Laura has talked on the below:
The confidence Masterclass: Building Self-Confidence
'Stress Busters are us!' – practical tips and techniques for better managing stress and pressure at work
Avoid Doom, Gloom and Confusion: Present with impact! – Top presentation hacks
'Help my Client's stuck …' – how NLP can help Coaches take their coaching to the next level
'They just won't buy!' – improving sales with NLP
Communicating through change made easier with NLP – a talk about leading change
Change your thinking; change your results – changing mindsets that deliver results
NLP: the leader's secret weapon! – using NLP to enhance leadership
Goal setting and goal getting made easy with NLP
What are they saying?!: how enhanced communication skills can get you even better results
Procrastination: the thief time and how to move beyond the thief
Enhancing your coaching practice: stop pushing the rock up the hill, eradicate the rock!
Improving Emotional Intelligence with NLP
What do the delegates and organisers say …
Rachel hasn't stopped talking about [the event] all morning!

 

Fab training event by Laura Evans NLP for Leaders

Fantastic Session tonight by @lauraevansuyp on #nlp fascinating #needmore

Communication is key! Outstanding seminar today!

Last night people came together to learn the power of the mind … we listened to the amazing Laura Evans give us a taste of NLP which blew my mind – amazing!

Great #nlp session with our coaches! thanks @lauraevansuyp

Thank you Laura – a great session – I passed on your tips to my daughter who was presenting for her A levels the next day – she would also like to thank you, she got an A

A great session, I learn't loads!

Many thanks Laura for such an inspiring and informative evening. Your enthusiasm and knowledge and generosity is much appreciated.

Throughly enjoyed the session the introduction to NLP and lots of new ideas to take back to the team

Short and Snappy and Straight to the point – very useful

Very accessible and professionally delivered

I learnt so much in 90 mins – Laura is a very knowledgeable, engaging & lively trainer. Her session was fun, well paced, informative and very useful. If you get the chance to attend her training or taster events, I highly recommend you do

A useful enjoyable session

I have been using the few skills I picked up at your presentation and I see a difference. I am sold

'Really enjoyed the session and there is much we will be able to put into practice in our own training sessions'
Would you like to book Laura Evans to speak at your event?
Laura is currently taking bookings for speaking opportunities over the next 12 months and if you'd like to talk to Laura about speaking at your event get in touch via info@unleashyourpotential.org.uk
Laura is based in Cardiff, South Wales, but is prepared to travel.