NLP Diploma – 2 day NLP Course
Your Trainer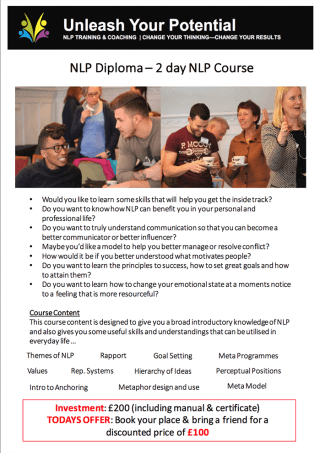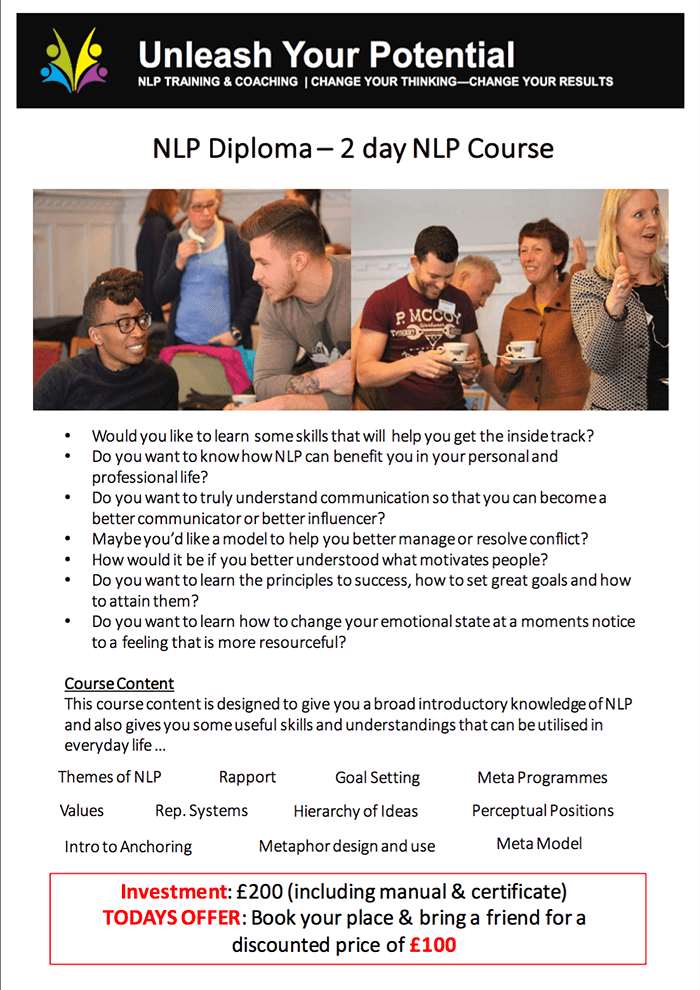 : Laura Evans (International Certified Trainer of NLP)
Do you want to learn about NLP?
Do you want to know how NLP can benefit you in your Personal & Professional Life?
Would you like a taster before committing to one of our NLP Practitioner Certification Courses?
The NLP Diploma course is designed as an introduction to NLP for people who are curious about how NLP can assist them in their every day lives. The 2 day course is a great introduction to NLP for people who would like to learn some of the NLP skills and are currently not in a place where they want to to commit to the 7 day NLP Practitioner course. The NLP Diploma Course is presented by our Lead Trainer, Laura Evans (Certified ABNLP Trainer of NLP) and is a great way for you to get a fun and interactive taste of what NLP can offer you. NLP is both an art and a science; the NLP Diploma will give you a good grounding in some of the skills set and ways of thinking that people in the NLP community have enjoyed for years.
We are firm believers that learning NLP should be experiential – you simply can't learn NLP to a high enough standard from a book or on-line course alone (you need to understand why each topic can add value, what it is, the theory of how it works, see it demonstrated, practice it yourself and understand how each topic can make a difference if you apply it). The NLP Diploma also provides you with the opportunity to come and see Laura Evans and her company Unleash Your Potential in action (and gives you an insight into why our 'raving fans' love our training and have decided to undertake their NLP training with us). Aside from the fun, huge value and great content we offer our delegates, we pride ourselves on focusing on the concepts and skills we know work and teaching them in a way that everyone can easily understand and apply:
"If you can't explain it simply, you don't understand it well enough" – Albert Einstein
We are proud to be the only NLP training provider based in Wales able to offer you the chance to go all the way through from certified NLP practitioner, to certified Master Practitioner and onto NLP Trainers Training and this means that you won't need to change provider the further up the NLP career ladder you go. We are also privileged to be recognised by the American Board of NLP (ABNLP) as an Institute of Neuro-Linguistic Programming (NLP).
Please note, this NLP Diploma course is not a two day sales pitch (like many other Introduction to NLP courses currently on the market). On our NLP Diploma course you will learn and walk away with some new skills, knowledge and understanding that will help you in your every day life AND you will come to grips with the basics of NLP. If you want to learn the whole suite of NLP Practitioner skills you can book onto our certified NLP Practitioner Course (you do not have to complete the NLP Diploma before you can book onto the NLP Practitioner Course – you can book directly onto it with no prior NLP experience).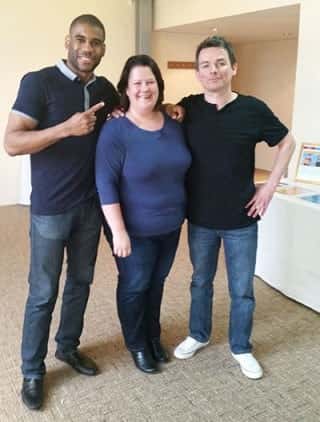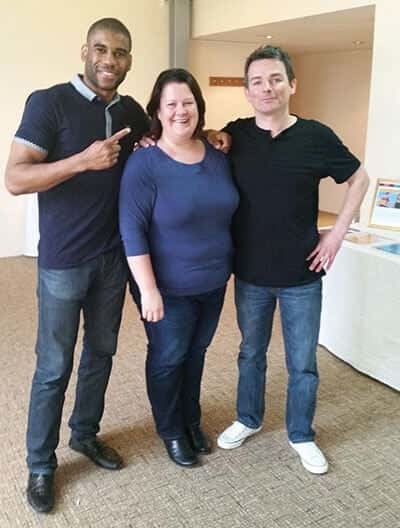 At the end of the two days you will be presented with the certificate "NLP Diploma" and all our courses are approved by the ABNLP – the world's largest NLP certification board. You can use your Unleash Your Potential Ltd NLP Diploma certificate to join the ABNLP as an 'NLP Associate'.
If you enjoy the two days and want to go on to further trainings, like the NLP Practitioner course, we will credit the price that you paid for the NLP Diploma against the NLP Practitioner Course.
NLP Diploma – course content
The course content is designed to give you a broad knowledge of NLP and also to give you some useful skills and understandings that can be utilised in your everyday life.
History – the background to Neuro-Linguistic Programming (NLP) and how it relates to your world
NLP communication model – understanding how our minds work
4 themes of NLP – the mindset on which NLP is based
Presuppositions of NLP – a great set of statements, which if we accept as true, makes our world a lot easier!
Primary Rep Systems and Utilisation – understand people's inner world and learn how you can utilise it. Learn how people learn. A great tool for conflict resolution
Rapport – learn how to build rapport at an unconscious level (with anyone, even if you don't like them!) – rapport is the basis of all communication
Goal setting and goal getting – learn the principles to success, how to set a great goal and how to attain it
Meta model – take your questioning skills to the next level – learn how to use specific questioning to enhance communication
Perceptual positions – learn a fantsatic tool for resolving conflict
Hierarchy of ideas – ever wondered why you sometimes don't understand what other people say?! – with Hierarchy of Ideas you can understand how people talk at different levels of abstraction and detail and how to use it to improve your communication
Meta programs – (an amazing and empowering topic!) understand the basis of one of the filters of your unconsious mind (which is a powerful determinant of personality) and learn how to utilise it for better communication and influencing
Values – learn about another one of the filters of the unconscious mind and how they determine your focus and what motivates you (or doesn't motivate you!)
Sensory Acuity – learn how to notice if your communication is getting through to the person you are engaging with
Controlling your emotional state (Anchoring)– learn how to change your emotional state at a moments notice to a feeling that is resourceful and watch how your results change!
Metaphors – (everyone loves a story and you can teach others or bring about change through story telling) – understand and learn how to design and utilise metaphors
NLP Diploma: course format
2 days
Day 1: 9am arrival for registration
Training days run from 9.30am to 5pm
Tea & coffee is provided during breaks (you can purchase your lunch at the training venue or bring it with you)
There is no prerequisite or pre-course study for this course – all you need is an attitude of curiosity, an open-mind and a willingness to learn
Who should attend: anyone curious about NLP (we have a fabulous mix of people on our open courses from all walks of life)
Investment in your NLP Diploma
Our aim by offering the NLP Diploma is to offer people a highly valuable and quality experience of NLP – we do not want this to be a seminar, we want people to go away with skills they can put into practice straight away. To ensure that this is possible, we will be limiting attendance at these events.
Places are £200 per person including course manual and certification. 
You can bring a friend or colleague for £100 – making it £300 for two people (buy one and get the second place half price!)
We anticipate high demand for these high quality, high value and affordable introductory NLP courses and therefore we encourage you to book now!
You can check out our Course Schedule to see when we are next running an NLP Diploma course.
To secure your place on the NLP Diploma course please call us on 02920 023311 or email info@unleashyourpotential.org.uk
If you are looking for something focused more on business, then have a look at our NLP Business Diploma