Want to stop feeling so indecisive? Want to learn how to make decisions quickly and with ease? In this video, Laura will share with you her decision-making top tips for stopping indecision and will show you how to make decisions effortlessly and easily.
We all have to make decisions, and many of us get stuck in indecision.  
We can often feel overwhelmed and unsure of what choice to make.
Let Laura share with you her top tips for stopping indecision in it's tracks and helping you to make a decision with ease and in super quick time too!
Learn how your brain makes decisions and how you process information.
How to decide and take action when decisions are involved
Stop should-ing all over yourself  
Bonus learn a great questioning technique that really helps with clarity on decision making
Click the play button above to watch the video or visit our Youtube channel.
We would love you to subscribe to our YouTube channel and let us know how you get on with your brain dump, leave a comment on the video. Please do give us a thumbs up.
*PLEASE NOTE – All footage of training was filmed before Covid, we now run Covid secure events for all NLP Practitioner training courses.
If you have any questions regarding NLP training courses give us a call on 02920 023311 we would be delighted to discuss the options and help you.
Video created by Laura Evans – Award -winning NLP Trainer, self-improvement & NLP Expert helping Coaches and Professionals to unleash their potential in business and life with high-quality NLP Training, learn more about Laura and her award-winning training at the Unleash Your Potential website.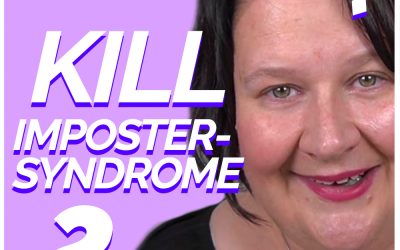 Many of us suffer with Imposter Syndrome, according to research 70% of us will experience Imposter Syndrome in our lives and the good news is we are in great company even celebrities are in that 70%. In this video, Laura will share with you how you can get over...