So how, you may ask does NLP help in a business context? Would you be interested in learning how you can improve your communication skills? Perhaps you are interested in how you can more easily influence others at work? Maybe you're a supplier and want to be effective at negotiating and as such you'd like to learn some skills that will help you engage more effectively with others, and perhaps learn a potential customers buying strategy? Maybe you've found yourself in meetings at a time and it all just seems to be going over your head? Would you be interested in learning ways of removing the inner critic that prevents you from achieving that promotion? Perhaps removing those nerves before you deliver a presentation or feeling more confident in your abilities is what you want most? Maybe you struggle to make yourself heard at work or get your point across? Maybe there is someone at work you find particularly difficult to deal with and wish you could find a way to make those interactions easier and less stressful, perhaps even pleasurable? Maybe you are a manager of people and wish you had a way of understanding how to better motivate your team? Maybe you have been given a ton of 'constructive' (aka critical) feedback over the years and just don't seem to be able to change whatever it is you want to change in your behaviour?
I could go on, but in nearly everyone, I meet in the corporate world there is something that they wish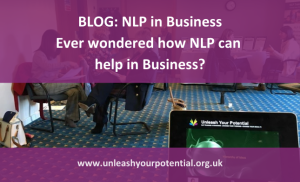 they could change in order to get better results for themselves, their teams or their business. You see the thing is, business is really only about 2 things – people and communication, and NLP is the technology that I believe can make the biggest difference in both these areas. Having worked in the corporate world for over 15 years, I understand how amazing great communication can be, but also how challenging it can be to deal with such an array of people or when communication goes wrong.
I'm sure you would agree that business is all about communication. Every day we communicate with all sorts of people; maybe people who work for us, colleagues, clients, suppliers, directors, contacts, associates, customers, or even the general public (for those in the public sector or in the private sector people interacting with the general public via advertising for example). Most people when they think of communication think about the words used – and whilst that is part of it (7 % of it), there is a huge amount more to truly effective communication. Even if we just consider the words used for a moment, we have differences here – in terms of dialect, 'keywords' or phrases (the business jargon) that one team or business might use when compared to another.
In NLP we talk about the NLP Communication model and understand that REAL communication is a lot more than just the language that we speak. There is much more below the surface and if we equate communication to an iceberg floating in the sea, the person with NLP skills will see, hear, feel and utilise what's beneath the waterline (the larger section of the iceberg) rather than simply relying on the words and details they can observe above the waterline. Beneath the waterline are emotions, feelings, conditioning, attitudes, values, memories etc – it is these things that drive human behaviour and if we can help by challenging our client we can give them new choice, options and possibility. In NLP we have a number of what we call 'Presuppositions of NLP'  – one of which is that 'the behaviour is NOT the person. Accept the person and change the behaviour'. However, understanding of how the mind works really helps with this. In essence, you need an instruction manual for the mind, and this is what NLP can do for you, thus making it easier for you to effectively communicate and thus influence change in yourself and others. At Unleash Your Potential, we focus on teaching the things we know make the difference. We have spent many years acquiring our knowledge and skills from the best and believe that because we have such a good handle on NLP we are able to explain and teach it in a simple and easy to understand way. If we can learn and use it, so can you and this means you can learn easily and effortlessly on our courses. We believe people learn best when they are having fun, so you can also look forward to fun and laughs when you train with us! Studying NLP allows you to really tune into others and build strong relationships fast and easily (as well as taking the time to get to know yourself!). NLP makes your goals and outcomes much more achievable.
Now, many people are aware of the highly effective techniques that are offered by NLP, many of which have made it so popular for business professionals around the world who have had great results both in their own personal and professional development, in addition to it giving them the edge in leading, developing and managing others. It has even got to the point where a few months ago, I was working for a financial services client and I looked at some complaints training that had been delivered because I wanted to understand why the delegates had been raving about it being the best complaints training they had ever done – they really felt that they had walked away with a great bunch of techniques and new ways of thinking that meant they could really improve their own performance and that of their overall team. When I looked into it, I found the course was full of NLP – they just hadn't labelled it as such, and the performance of that team improved significantly. So many business leaders and HR/L&D departments are using NLP to enhance what they do and are finding that it is delivering great results – I remember around 2008 I was working for a Food Retailer, in their head office and the Head of L&D knew the value of NLP (having become a Master Practitioner of NLP) and she decided to put around 5 of her team through the NLP Practitioner-level course – their training was already really good, but the knowledge, skills and experience they had following their NLP training provided the rocket fuel for them as individuals and for the even greater value they could add to the business. I've seen people who want to set up their own business, but something like a fear of presentations has held them back from taking the first step. I did some NLP with one gentleman who, for a number of years had dreamt about setting up his own flying school but hadn't. Once I had helped him get rid of his fear of presenting (and a couple of other things) he went on to create and run his business – that was an amazing day when I worked with him  (NLP techniques are generally amongst some of the fastest and effective ways to change), and I could see how NLP had positively changed his life forever, meaning he could go off to realise his business goals.
Our NLP Practitioner course teaches you some fantastic NLP techniques and just as importantly teaches you some language skills that you can use in any interaction and this means communicating, influencing and negotiations becomes so much easier. We make studying language fun, memorable and easy to apply (just as we do for the NLP processes and techniques we teach). A knowledge of NLP can have the following benefits:
Build improved relationships with clients and colleagues
Deliver more effective presentations
Influence and persuade people
Plan and achieve business objectives with well-formed outcomes
Be more effective in meetings, particularly where it is necessary to manage and resolve conflict
Use motivating and influential language
Effectively use your emotions – choose how you feel at any time
Understand other peoples 'model of the world' and be more effective when it comes to negotiation
Become better at managing, coaching and appraising your team members
Increase flexibility and openness to change
Maximise people's potential by understanding what motivates them
Be more creative in their thinking and better able to solve problems and meet new challenges
remove self-limiting beliefs
Embrace a new empowering way of thinking – the NLP way
Understand the NLP communication model and how to make your communication effective at all levels
read external signs of someone else's thinking patterns
Give and receive feedback
Become more assertive
How to build rapport using physiology, voice and language
Understand conscious and unconscious thinking, language and behaviour
recognise what motivates and de-motivates people
Become an outstanding communicator
To give you another example, Laura worked with a lady that wanted to set up her own business but was terrified of selling ("I don't do selling" she said). Using her language Laura could easily help her shift from her old mindset to a new empowering one – where she loves selling because she's changed the way she views it – selling is actually simple, easy and fun because you are providing a solution to someone else's problem – how good is that!
How do I learn about NLP in Business?
The most effective way is to start by enrolling on our certified NLP Practitioner course which is a massive personal development course AND shows you how you can NLP in business. This is the most cost-effective route, and if time is a consideration for you, it's also the best way to start from this point of view too.
We also provide in house courses tailored to specific topics or for your specific team or business needs. We can run courses from 1 day up to 7 or more days depending on the brief and the outcomes you are trying to achieve in your business.
Additionally, we provide NLP and executive coaching, where we are able to work with individuals one-to-one either over an intensive 2 day breakthrough or through one of our coaching packages.
If your curious, then get in contact to find out more via: info@unleashyourpotential.org.uk