Learn how to relieve stress and anxiety in your life with two simple breathing techniques. Is stress and anxiety causing a problem in your life? Would you like to feel calm and relaxed rather than stressed and anxious? We have the answer for you.
In this vlog Laura explores how stress can impact our lives and shares some simple breathing techniques that can make a big difference. The video shares her top tips for a calmer state.
Here in the UK there have been various studies on mental health and the charity Mind has said that 1 in 4 people will suffer with their mental health.
The effects of stress on our body and minds are well documented and in this vlog Laura shows you two simple breathing exercises that can help calm and relieve stress and anxiety quickly. Not mention how to check if your stress bucket has enough taps! (watch to understand what we mean).
Watch the video and learn these two simple breathing exercises to relieve your stress and anxiety. Click the play button above to watch or visit our Youtube channel. 
You can also download Laura's PDF guide – 10 Ways to reduce your stress today – click here to receive your copy.
We would love you to subscribe to our YouTube channel and let us know how you get on with your brain dump, leave a comment on the video. Please do give us a thumbs up.
*PLEASE NOTE – All footage of training was filmed before Covid, we now run Covid secure events for all NLP Practitioner training courses.
If you have any questions regarding NLP training courses give us a call on 02920 023311 we would be delighted to discuss the options and help you.
Video created by Laura Evans – Award -winning NLP Trainer, self-improvement & NLP Expert helping Coaches and Professionals to unleash their potential in business and life with high-quality NLP Training, learn more about Laura and her award-winning training at the Unleash Your Potential website.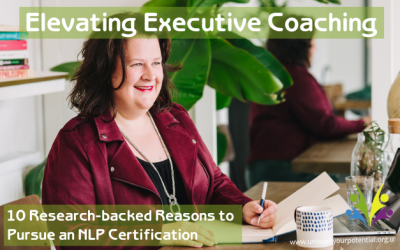 In today's rapidly evolving business landscape, executive coaches play a crucial role in helping leaders unlock their full potential and drive organisational success. While executive coaching alone can be highly effective, combining it with Neuro-Linguistic...