I've recently been staying on a beautiful farm in South Wales and for those of you that are not aware, it's lambing season. The daffodils are out in full bloom and the lambs that have already arrived are skipping across the fields following their mum and learning at such a rate of knots … full of energy, playful, full of vibrance, curious and full of life. They look like they love life, not a care in the world and with the farmer keeping a careful watch (not that they are aware of that).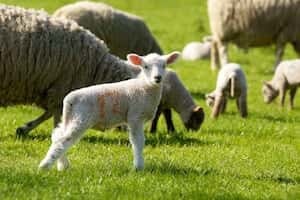 As I looked across the kitchen and saw the remains of the Easter Eggs waiting to be consumed, I looked up at the sheep in the field  …. what would it be like to be so care free? What would it mean to have such a high level of curiosity that you just went right ahead and explored anything you wanted to, asked the right questions (some of which you might currently be too afraid to ask) and listened more … how many people wish they could start over again, and new beginnings are of course so synonymous with this time of year aren't they?
New Beginnings …
Easter means lots of different things to different people; to one group of people it's about the most important Christian event in the calendar, and for others its means time with loved ones (and a lovely roast dinner!), for some it's about permission to indulge or perhaps it to others means nothing at all. Each to their own I say, but regardless of your perspective, wouldn't life be great if we all had more curiosity?
You see, you make choices and decisions everyday of your life; choices to follow the crowd, choices to make a change … you can have a 'new beginning' whenever you choose …. feels empowering to know that, doesn't it?
So, whatever you're up to today, have a great day!
Curious about NLP?
If you'd like to change your thinking – to get your hands on your new beginning or want to become more curious so you can get more out of life  let us help you – you're in safe hands with us, we have the experience and expertise to get you the results you strive for. On the other hand perhaps you want to help others do grab life with both hands by becoming a coach or enhancing skills you already have in this area. The joy is seeing clients almost skipping away into their future gives me the 'why' behind what I do (ok, maybe the skipping bit isn't you – but you get what I mean!) – the good news with NLP is that we can use it to help you get exactly what you want …
Check out our course schedule to review our forthcoming training courses and see our **new course dates** recently added. If you'd like'd the support of Coaching be sure to check out our coaching pages too! Maybe you over-indulged at Easter and have decided your new beginning to to regain the shape and energy that you know you can have to enjoy life to the full – if this is you, check out our Weight Change Paradigm Coaching.
Already an NLP Practitioner?? – check out our very special & transformational Master Practitioner course – book early and you can pay for your course via instalments – it is one of the most amazing personal development experiences – call us to find out how we can arrange this for you!
Call us for a no obligation conversation about any of our services today – 02920 023311