Firstly, I'd like to take the opportunity to wish you all a Happy New Year and hope that you've had a great time with your family and friends over the holiday season – my wish for you is that 2020 is your most awesome year yet! You've got 8,760 hours ahead of you during 2020, what are you going to do with yours? What if you could realise that career change? Start that business? Increase your income? Travel? Find that special someone? Get fit? – all of these have the same start point, and that is
you
!
What we do know is that if your New Year's resolutions for 2019 didn't live up to your expectations – you need to do something different.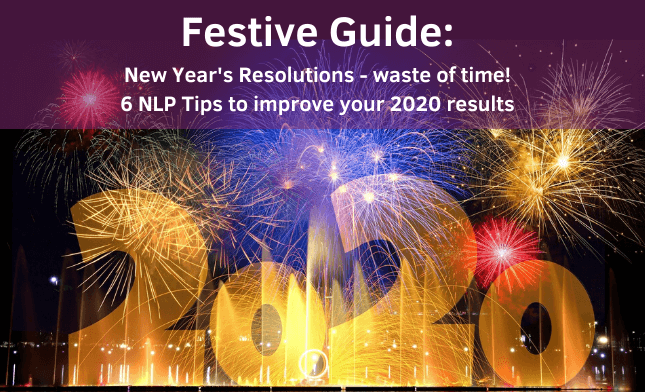 As the famous quote says: if you always do what you've always done, you'll also get what you've always got. So how about setting your intention for 2020 to be different.
Let me help you get off onto the right foot this New Year …
How do you set New Year's resolutions?
So let's start by reflecting on last year ….  how did you set yours? Did you pause and reflect? Did you jump right in? Did you listen to everyone else's and pinch the best? (I've done that too!), Did you focus on what you want (or what you don't want)?  Did you think about what went well in 2018 that you want to build on? Did you pause to consider what you learnt along the way that you can take into 2019? Did you consider what You really, really want for you in 2019?
If like many you rushed to select some New Year's resolutions without huge amounts of thought, then maybe now is the time to fine tune your intentions to increase your chance of success for 2020 ….
6 NLP tips to help you write better goals …
Be Specific & write it down! – What do you you want? – really spend time pondering over this, ask yourself some great questions to get really precise about it. Get it committed to paper – write it down, draw it or find images that represent it (this can be a great activity to get the family involved with over the festive period). Be as specific as you can about what you want and by when you will have achieved it e.g. 1st September 2020.  Get clear on how will you know when you've achieved it? What will you see, hear or feel when you've got it?
'Watch your language': Use positive language to state your specific goal. Ensure your goal specifies the outcome that you want – not what you don't want. You want to be focused on for example getting fit and healthy (if currently you have written that you want to lose weigh – writing about the loss of weight means you are focusing on exactly what you don't want – weight!). If that's you, it's simple to fix, just re-look at your goal and rephrase it into what you want by asking yourself these questions: what do I want instead? what will doing that get for me?
Know your "why" to help with motivation: a phrase I heard from Ray Higdon is: "pain pushes you, until a vision pulls you" – it's all about the different types of motivation. People are either motivated away from something they don't want (pain), or towards something that they do want (the latter brings much much more consistent results and success). Be honest with yourself, is there a massive 'why' behind your goal that excites and delights you if you imagine having already achieved it? – if not, maybe you don't have the right goal? have you pondered over your reason for wanting your goal – is there a big 'why' there that you've yet to discover? or is it the wrong goal for you in 2020?
Take Action! – set your intention to do something every day towards your goal (no matter how small) – nothing is going to happen unless you do something! TOP TIP: when I go to bed at night I ask myself; what did I do today towards my goal? What did I learn? – 2 simple questions that allow me to reflect for a few moments as I close my eyes and drift off to the land of nod  …. (and if you're the type of person who likes to beat themselves up mentally during this type of exercise the next bullet point is particularly for you!)
There is no failure, only feedback: none of us are perfect – and in my model of the world there is no such thing as failure, there is only feedback – which we can learn from. Many people make the mistake of thinking that they've 'failed' at a task towards their goal and therefore abandon their goal entirely. Feedback simply needs to be learnt from or reflected upon. TOP TIP: once you've set your goal, and you're out of the starting blocks, be flexible if things aren't working out in the way you had hoped – if what you're doing isn't working, tweak something, do some thing else – simples!
Accountability – make a promise: is there someone that you'd never break promise to?  EVER? – then that's the person you need to tell about your goal(s) for this coming year. Chat to them, discuss how you're going to do it, what are the steps, and ask them if they'd hold you accountable – what frequency will you check in with each other? How will you update them …
The 5 principles to Success
Finally, you may like to watch this short YouTube Video I created about the 5 principles to success which also help in goal setting …