We often get asked questions about whether there is any difference between Life Coaching courses and NLP Coaching Courses – so let's deal with the most commonly asked questions:
Is a Life Coach and NLP Coach different?
I'm thinking of becoming a Life Coach, can NLP help?
I want to be a Life Coach, do you offer a certificate that says that?
I've seen lots of Life Coaching Courses, but I'm not sure whether to do an NLP Practitioner course or a Life Coaching course first?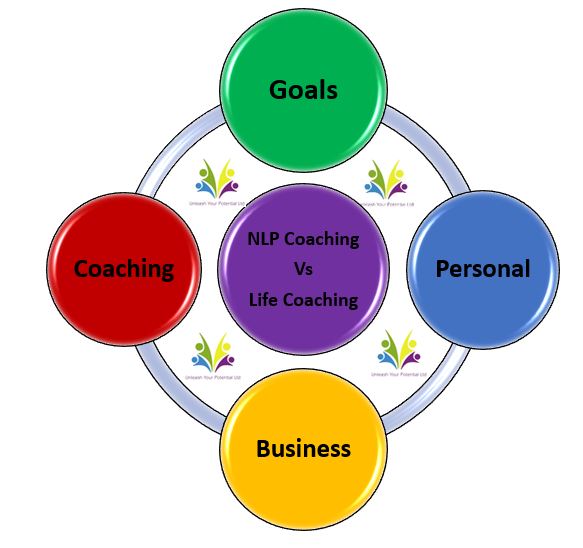 What is Life Coaching?
Coaching is great! I LOVE coaching people it's a really rewarding vocation. Having the skills and being able to help someone move from where they are to where they want to be is priceless! Seeing their faces when they realise that they had the answer all along or realising that they really can have the goal they desire gives me huge satisfaction as a Coach.
Coaches operate in many contexts. You can have a Business Coach, Wealth Coach, Relationship Coach, Career Coach, Fitness Coach, Sports Coach, Start-up Coach, Executive Coach, Performance Coach … the list goes on .. and of course, Life Coaches. Life Coaching is about using Coaching skills in a broad context – to help people in their life and it means your Coach could help you get unstuck in pretty much any area and help you move beyond what's holding you back. The scary thing is that anyone can call themselves a Life Coach which means that results and quality is very variable – you could go and create a certificate for yourself right now that says you're a Life Coach!
Anyone with or without training can call themselves a Life Coach
I am aware of Life Coaches who have studied NLP and NLP Practitioners who are Life Coaches.
What is NLP Coaching & the NLP Practitioner Qualification?
Most training providers will offer potential delegates the opportunity to qualify at the NLP Practitioner level (the first formal level of NLP training that certifies you to be able to work with others). On NLP Courses, you not only learn how to be a great Coach you learn to be a great client too. You will practice taking someone through a technique for example, and likewise you will be a client for someone else. What this means is that not only do you get the personal benefit from the process, you know what it feels like to be a client. Some say the best Coaches have learnt to be great clients first (my argument is you should not be using techniques and coaching processes with others unless you've experienced them yourself).
You should note that NOT all NLP trainings are created equal. There is a vast array of providers. Once you qualify as an NLP Practitioner or Certified NLP Coach you can of course call yourself a Life Coach too!
Life Coaches would benefit greatly from studying NLP (just as anyone in the Coaching field would). To become an EFFECTIVE Life Coach, my view is that you need to study NLP. NLP is the technology that sits behind successful Life Coaching – Coaching that actually helps people change things and move you towards a compelling goal. Most Life Coaching courses offer a weak and watered-down version of NLP. In order to actually help people, Life Coaches would benefit from not only an accredited NLP Practitioner course, but also to add to their skills with Hypnosis, Time Line Therapy™/Creating Your Future Techniques®. This ensures you have plenty of tools in your toolkit to really help people make the changes they want to make. Having multiple disciplines means you are equipped with multiple ways to help clients –you would never want to be a one trick pony!
Be the best Coach for your Clients
Do you choose a Life Coaching Course or an NLP Coaching Course?
9 Things to ask Life Coaching Course Training Providers
What's the size of the training group? (group size will impact on your learning experience and large groups may limit your contact with the Lead Trainer.  Don't train with providers who want to stack 'em high and sell 'em low – you need to look for quality training if you really want to be able to help others. We cap our courses at 14 delegates, for example)
What personal experience of Coaching has the Lead Trainer got? (ensure they have LOTS of experience of helping a VARIETY of people so that you can be sure on the course that they can share not only theory but examples from their own experience which will help you understand the practical application of the content – our Lead Trainer has for example 15 year's experience as a Coach in various contexts)
What on-going support is there? (if you are looking to set up a coaching business does the training provider offer you the opportunity to study both coaching skills to enable you to help others AND the skills to set up and run a successful coaching business – without the business skills your dream could be short lived! We offer for example our Setting up and Running your Successful NLP business & Making Sales Easy with NLP courses.
What skills are included in the training? (be clear on what TANGIBLE and PRACTICAL skills they are going to teach you. Be sure there is plenty of practice time built into the course and that they can convince you that you will walk away with the confidence to ACTUALLY use what you've been taught)
What do the previous delegates say about the course? Could you speak to someone who has gone on to do what you'd like to do following the course? (Testimonials are a great way to get a feel for a provider – most providers will have video testimonials you can watch. What's more important is to hear from or speak to people who have done the course with the provider you're looking at AND gone on to do what you'd like to do – aka is there potential to go on to ACTUALLY do what you want to do after the course).
Is the course accredited by an external governing body? (ensure the course adheres to a well-established international accreditation body – there are many providers who make up their own accreditation – yes, really! Here are some of our accreditations – we don't share them to impress you, we share them to press upon you how important it is to train with providers who take their responsibility as a training provider seriously and want to be held to account:
American Board of NLP (ABNLP)
American Board of Hypnotherapy (ABH)
Time Line Therapy™ Associations (TLTA)
American Board of NLP Coaching Division
How many days of training are there? (you CANNOT train to become a Life Coach or any other Coach for that matter in a weekend and any company that promises you this is quite frankly reckless! You also don't need to train for 6-12 months either. Be careful also of providers promising you lots of qualifications over for example 5 or 7 days – they will have to rush the content and drop practice time to cover it all)
How many qualifications will you gain? Will you have a variety of skills to be able to help others? (The best Coaches have a range of tools in their toolkit to help their clients in a way that works for them. If you did our Life Coaching Package, for example, you'd do our NLP Practitioner and Certified NLP Coach course, which combined requires 60-70 hours of pre-course study, 11 days of live training and you'd gain 4 qualifications – Certified NLP Practitioner, Hypnosis Practitioner, Certified NLP Coach & Time Line Therapy™/Creating Your Future Techniques® Practitioner)
What's the investment?  (Your focus should be on VALUE & QUALITY. DO NOT make the mistake of choosing a provider purely on price (or location for that matter) – it's not necessarily the case that the most expensive is the best either. You want to pick the right provider for you and learn it once and learn it well.  Given it's likely to be a sizeable investment, do they offer the ability to pay via installments to help you spread the cost?)