Don't make the same mistake other people do! Read on to find out more …
Firstly, it's great you're considering an investment in your personal and professional development. Good NLP Training Courses provide knowledge, experience, confidence in using what you're learning, personal growth & transformation, as well as skills you can use in your business/career and life to achieve your goals (and help others do the same should you wish). Laura Evans, our Lead NLP Trainer has over 18 years experience in the people development industry.  Many people tell us the two most important factors when deciding on an NLP course are cost and location. This is a big mistake in our view and could lead to hidden costs of Training. Let's tell you why.
Selecting the right course for you! 
Regardless of what course you might be looking at, including NLP Courses, you need to ensure that you're looking at the right course for you. It's tempting to just look at the short term factors of cost and how far you will travel – but these factors are short lived.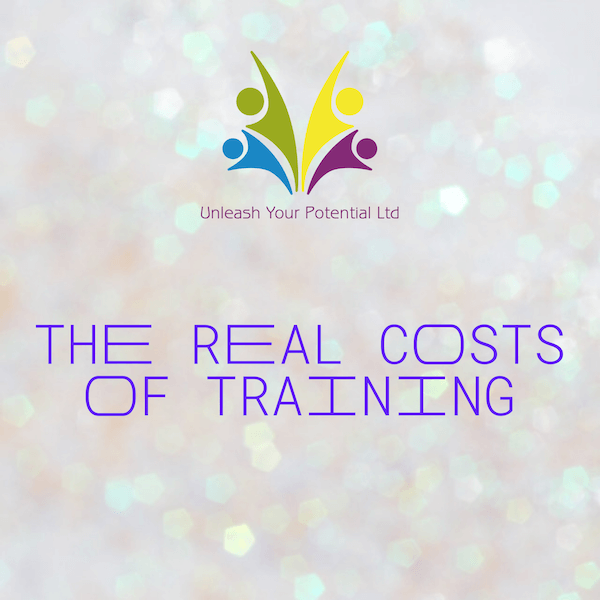 Your investment in great training will last a LONG time – it's an investment in your future. We've had SOOO many students come to us after having done training elsewhere, asking Laura to retrain them …. simply because they didn't ask the right questions or consider the right factors before parting with their hard earned money.
Things to consider, aside from the cost of training and location:
What are your learning objectives? What do you want from the course?
How do you plan to use your new skills, knowledge and experience? (are you looking to change your own future or help others? What evidence is there the Trainer has done this for others – have you watched testimonial videos from previous students?)
How do you learn best? – e.g. do you learn best face to face so you can ask questions? like interacting with others on the course? want to get support? how important is gaining feedback so you can refine your skills?
What's the Trainer:Student ratio? How many students are in the classroom? How many additional support staff are there to help you? (e.g. we have a maximum of 18 students on our courses and plenty of Coaches support Laura in the classroom – some other providers take as many as a 100 or more in a room – this is a very impersonal experience and makes it hard to seek answers to your questions or get the support you need).
What is the Trainer's background? (e.g. Laura has years of experience in coaching, has trained literally thousands of people in her training career and NLP has helped her personally get rid of her depression and anxiety – she's a Trainer with real life experience).
Does the Trainer have a track record of helping previous delegates achieve what you're after? (e.g. Laura has helped many people set up successful Coaching businesses, as well as to get past their blockers and gain clarity).
If you want to set up a Coaching business; what support does the company provide? (we offer two business courses specifically for Coaches and Therapists to help them start and grow a successful business and sell themselves and their services with ease – these are unique to us and constantly updated!).
How do you know the Trainer cares about their delegates? What access do you get directly with the Trainer? What percentage of the course does the Lead Trainer deliver themselves? Do they give you access to speak directly to previous delegates?
What support do they offer pre, during and post the course? – for example if you have a problem with the pre course study we're only at the end of the phone and we have an active Facebook group for all students after their courses and an annual student only event. We also allow delegates to attend future NLP Practitioner courses with no charge if they want to revisit certain topics.
Who accredits their courses? – eg. SNLP Trainers (Society of NLP) don't require any pre course study (meaning you have more to get your head around on the course). ABNLP Trainers (American Board of NLP) require you to do pre-work so you arrive with more knowledge and this means we can teach you more on the course. Always ask who accredits their courses and check what standards are required by that governing body. As far we as know the ABNLP has the highest standards.
What online reviews do they have? Have they got good reviews over a long period of time? – check Google reviews, Trust Pilot, LinkedIn and Facebook. Are people publicly saying how much they've enjoyed the course and are they recommending it?
What's included in the price? – it's important to find out exactly what you are paying for to avoid disappointment. E.g. some Trainers charge additionally for your certificate. Be careful of gimmicks – e.g. some Trainers include a 'Free' iPad loaded with your manual – that cost will be built into your course price – don't be fooled!
How many qualifications are they offering? – on the face of it you might think that if you can get more qualifications from the same number of days training or investment, this offers great value – NO, don't be fooled! Some other NLP Trainers out there offer 3 qualifications over a 7 day Practitioner course. We offer 1 qualification, your NLP Practitioner certification, from the NLP Practitioner course – we do the job throughly. Laura is much more interested in you leaving able to ACTUALLY do this stuff vs. you simply having pieces of paper. Think about this – if it takes me 9 days to train what they train in 7 days, then that's at least 2 full days of content they are not delivering. Our question is what are they not teaching you in that 7 day course? How much more confidence would you build over that extra 2 days of training? What extra changes could you make personally? how much more proficient could you be?
Can you have access directly to the trainer prior to booking? – one of the best ways to work all this out is to speak to the Trainer directly. All good training providers will offer you the opportunity to speak directly with the Trainer (you probably won't take them up on the offer, but the fact they offer this means they have nothing to hide). Speaking to the Trainer means you can get a feel for them and decide if you want to train with them. You're going to make a significant investment in yourself, at the very least you have to check you'll be happy to sit in front of them for 7 days!

 

The venue – does it have plenty of free car parking? free wifi? how far away is the mainline train station & cost of taxi to get to the venue? Close to the motorway? Accommodation options on site or nearby? Teas & Coffees included? snacks included? unlimited water? Lunch? (we don't offer lunch but you're welcome to bring your own – we include everything else at our venue).
Hopefully this shows you that to select the right course, there's WAY MORE to consider than just price and location. Secondly I hope it also helps you understand some of the hidden costs of not getting this decision right. But let's deal with price and location directly ….
Beware of Marketing Gimmicks: Costs & doing a 'like-for-like' comparison
There are all sorts of marketing gimmicks that some companies use to persuade you to part with you money … let's cover the common ones so you don't fall into the trap ….
 "We offer the same course cheaper" – be wary when shopping around and people tell you they offer the same course as us at a cheaper price. Ensure you are comparing apple with apples, not apples with pears. Is it the same number of days? Is it accredited? Is the Trainer certified? Is the content the same? (eg. have they trimmed out content to make the course shorter so you learn fewer topics or have less practise). Do they include the experience of Time Line Therapy™ like we do? – ensure you compare the syllabus (you can access ours in our course brochure).
Prices advertised exclusive of VAT – when a company's customers are predominantly private individuals, the VAT laws require companies to advertise prices inclusive of VAT. However, some companies choose to advertise a price exclusive of VAT to make it look cheaper. All our prices are always inclusive of VAT – so there is no nasty 20% increase in price when you come to pay. We have transparent pricing.
'We're local – so obviously a better choice for you' – this is a short term view. Quality training is more important in the long run. Short term it might save you on travel costs and accommodation (although booked early you can save huge amounts on hotel rooms – as cheap as £30 per night sometimes via booking.com for the hotel we use). Your focus here though is key – are you looking at your course as a cost or an investment? For me, it's an investment in you and your future – an investment that means it's worth training with the right person, even if it requires travel. Imagine this – you pick a local Trainer to keep costs low, but end up not getting the best training and perhaps not being able to use what you learn, then to have to retrain and end up paying twice (this has happened to many of our delegates over the years before they came to us). Better to make your investment with the right Trainer in the first place, even if that requires travel (you'll save each day on commuting time, parking, traffic jams etc anyway!). It's worth travelling for the best! There is also an advantage to going 'away' for your training – it means you have to put plans in place to cover day-to-day things at home, thereby enabling you to give your investment in yourself your full attention and get maximum value from it by for example having time to reflect each evening on what you've learnt (rather than being distracted or only giving it 50% energy/effort).

 
For more information on how to choose an NLP Training course access our free guide – click here.
Feel free to get in touch with us via phone on: 02920 023311 or drop us an email at: info@unleashyourpotential.org.uk 
Laura Evans is personally recommended by
Dr. Tad James
(Head of the American Board of NLP):